A bra is one of the most important things of every woman in their daily life. Basically, it lies under the cloths, but it has a great role. Any doubt?
The sizes of the chest and breast of different women are not also the same. Different women wear different sizes, bras, right? But the question of what is the smallest bra size has some surprising answer? Anyway, many women ask is it really necessary wearing bras for them who have got small breast? I'll answer this question just after a while. Just keep reading.
Anyway, when you search for the smallest size bras in various shops, most of the time you will find the smallest size A cup. But you should know A cup is not the smallest size. Yes, this is the truth that you may not know, but it exists. I would reveal the details in the following parts.
What Does The Smallest Bra Size Mean, The Cup, or The Chest?
It is really confusing, and most of the women also don't know clearly about it. I hope you know how to measure, don't you? If no, just don't worry, you will know it by this content. What about we are discussing, the smallest size bra determinant! To find out the bra size, you need to measure your chest (Band), and you also need to measure the cup size. Right?
You see, bra size is a number along with alphabets. For example, 32A indicates a bra size that means the band measurement is 32inches, and the alphabet ''A'' indicates the cup size. And the smallest cup size means the smallest bra size. That means the smallest size primarily depends on the size of the cup. Clear?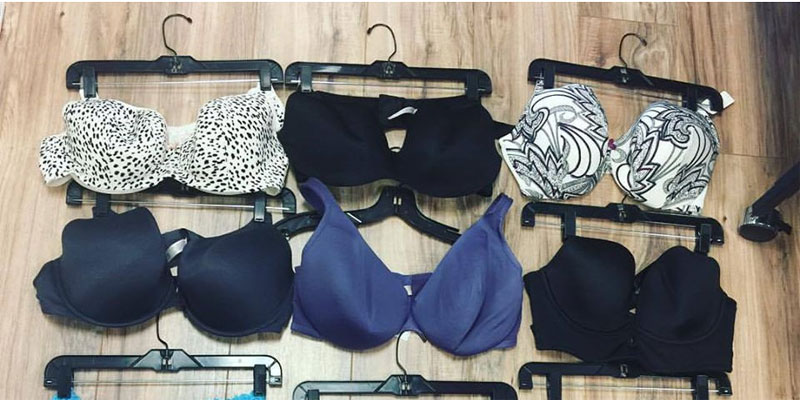 So, What is The Smallest Size for a Bra?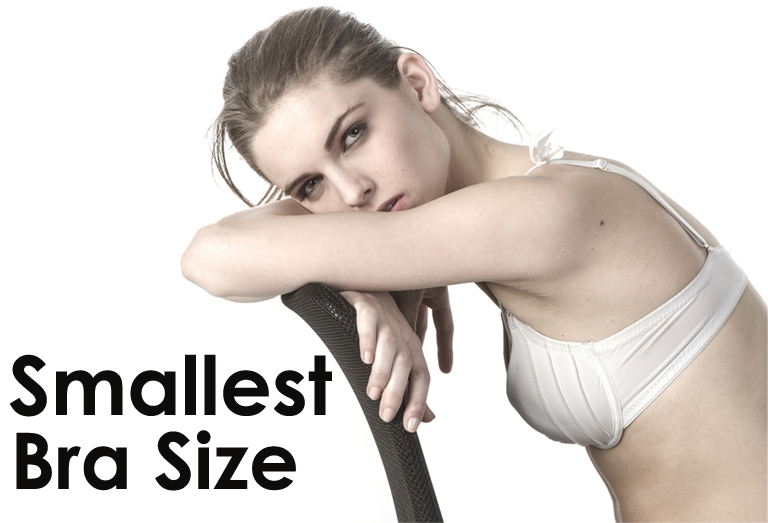 If you search the bra size chart, you find many. And unfortunately, most of the chart starts from the cup size ''A''. A indicates the cup size having 1" difference between your bust size and band size. But, not all women have 1" difference between their bust and band size. While many women have 2" to 8" difference between their bust and band size some women have less than 1" difference between their bust and band size.
And that's where the actual smallest bra size comes into play; rather I would say smallest cup sizes.
Yes, there also have other two sizes below that are AA and AAA. That means when the cup size is smaller than the 1 inch; then you have to collect either AA or AAA bra if you want to wear the perfect sized bra. Most of the girls wear the wrong size bra, which is not good at all.
So, the answer to the smallest bra size question is that A is not the smallest size; rather, there have two other smaller sizes than A.
You notice here I've told many times about the cup size. But how can you measure the cup size of the breast?
It will be discussed in the section on how to measure the bra size.
Popular Bra Types for Smallest Bra Size
The bras are available for the smallest bust of more than thirty styles. You can get any type as your own choice if the size is available. But some common styles are widely chosen by the small breast women. Those types are also effective and more supportive for small boobs. Some popular styles are enlisted below.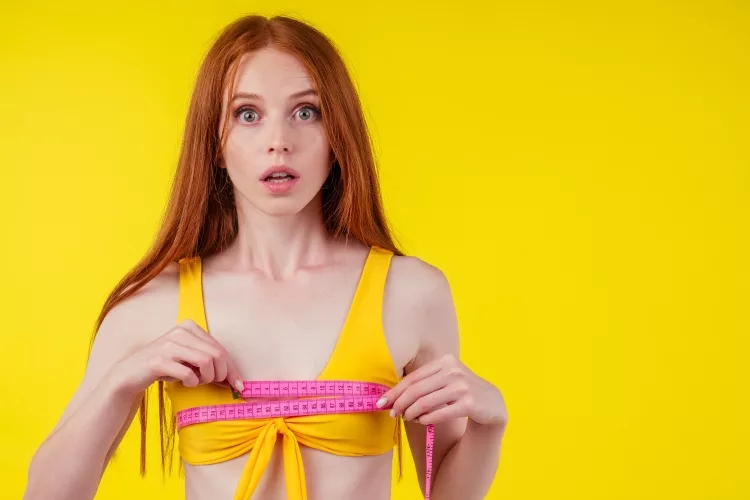 Push-Up Bra
This type is widely popular. Basically, it is chosen by the girls who want to create attractive cleavage. It pushes your breasts upward and keeps them close together. Usually, this kind of bra has either a silicon or foam padding under the cup. You can also create a fuller appearance of your breasts wearing this bra. So, it is really a good option for the small bust women who want to create cleavage and fuller appearance.
Strapless Bra
Strapless bras are also the top choice of most stylish women. They give you the opportunity to show your upper chest and neck. A strapless bra is a right choice for strapless sexy dresses. Some items come with removable straps. But if you know how to keep them up, you can skip the removable straps model. This type is widely available for the smallest size.
Padded Bra
This is such a type of bra you should own if you have small breasts. It can increase your breast size appearance. If you can choose the right fit, nobody can assume that you increase your breast size with the bra. You may notice sometimes your nipples are seen even under the cloths. This padded bra can hide your nipples. And they give you added support. Increase your bust appearance with the padded bra.
Sports Bra
Some women think they don't need any kind of bra for doing exercise, but they don't know they never should go for any kind of exercise without wearing a sports bra. Your breast size is small, that doesn't mean you don't need support. You should always ensure that you've worn the right sports bra to prevent bounce and rough movement. Almost everywhere, you find this bra type for your AA/ AAA cup size.
Underwire Bra
Do your breasts already sag? If so, you definitely don't want to show the saggy appearance. Underwire bra can be an ideal solution for you. The bra is wire equipped at the bottom of the cup, which supports your breast and prevents saggy appearance. Not done yet, this bra also can give you an attractive and alluring appearance. This style can be a good option for daily wear, which provides better support and an alluring appearance.
Bralette
You need proper support for your small bust. But remember, you don't need much support as needed for large breasts. Bralette is the perfect choice for small boobs from this point of view. They are made with minimal construction, and they provide light support. They are comfortable and stylish also. You can also use bralette as both styles outwear and underwear.
T-Shirt Bra
T-shirt bra usually remains invisible under the outfits. Most bras are padded and seamless. They provide gently support. And they also come in different styles, such as strapless, plunge, and others. These bras are commonly made for the smallest size, and you can get it.
Doesn't Small Breast Need Support?
In the case of females, the breast is the organ that is prominent on the chest, and it is well elevated on the anterior chest wall. But under the organ, there is no support, right? No matter what is breast the size that has developed completely, it needs support. You should know petite busts also need support. Supporting the breasts with the bra is always good. Always remember breasts are the organs that need support, and that is why the underwire bras are specially made to provide support.
What's Wrong If I Wear Wrong Size Bra?
You definitely know the amazing advantages of wearing bras. Furthermore, you should know the superb benefits of wearing a perfect sized bra. The benefits of wearing bras and wearing perfect size bra are not the same. Wearing bras is always good, but you should select the right size bra.
Many girls consider the ''B'' cup, but she exactly needs ''A'' cup, which is very wrong. A wrong size bra is never good for your breast health. Tightly fitted bras are not ideal and, at the same time, lose fitting bras are not also advised to wear because it has many demerits. So, selecting the perfect size is definitely an important thing.
How To Select The Right Size Bra?
Depending on your chest and breast size, you have to choose the bra size, right? So, perfectly measuring the breast and chest is very important. Before measuring, you may wear a bra that is non- push up and tightly lined that fits on your chest perfectly.
Start the process by measuring the band size. Measure the band just under the breast; it is the best way. Then you need to measure the bust size. Then wrap the measurement tape around your chest and over your breast. Place the measurement tape just over the nipples and take the number. Now, you have got both bust and band number.
Now you also have to cup size also. Cup volume measurement is very easy. The subtraction of band size from the bust size is the cup size. For example, your band size is 32, and your bust size 33. So your cup size is 1 inch that means ''A''. So, the bra size is 33A. From the following chart, you can know your cup size and find your perfect bra size.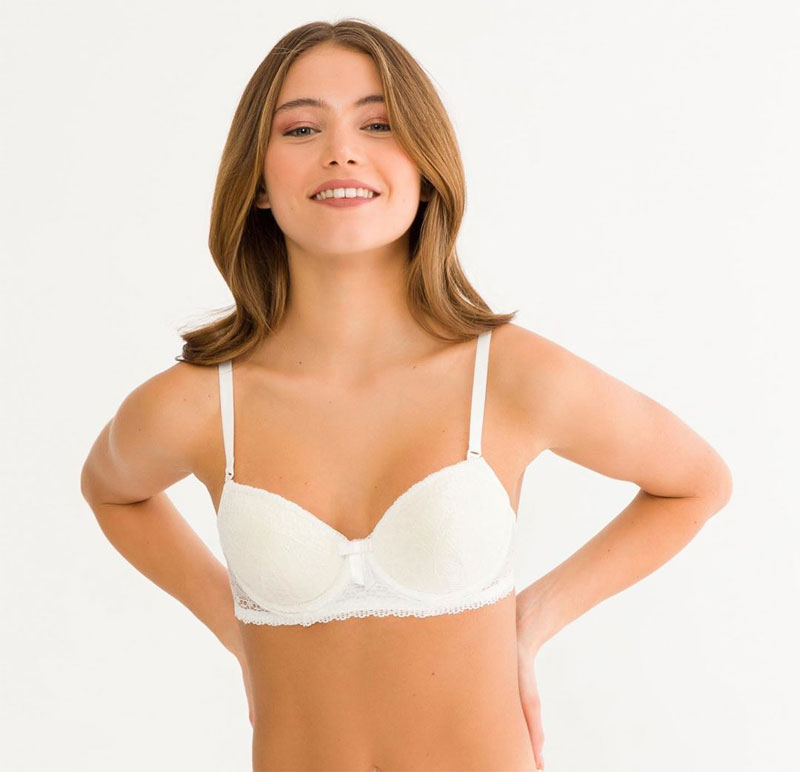 | | |
| --- | --- |
| Bust and Band Difference | Cup Size |
| Less than 1'' | AA & AAA |
| 1'' | A |
| 2'' | B |
| 3'' | C |
| 4'' | D |
| 5'' | DD/E |
| 6'' | DDD/F |
| 7'' | G |
| 8'' | H |
| 9'' | I |
| 10'' | J |
Smallest Bra Size Frequently Asked Questions
What is the smallest cup size in a bra?
A- Most people think A is the smallest size, but it is not true. There are also two more sizes AA and AAA.
Why do I have small breasts?
A- There are many reasons behind small breasts among them the genetic factor, impairment in development, age, weight, and some others are most important. If you don't have small breast family history, you should consult with a breast specialist. You should also consult with your doctors and if you suspect other problems with your mammary glands.
When is the best time to start wearing a bra?
A- Usually, the females develop puberty in between 8-13 years. Within this time, the breasts start developing. The puberty age can be 8 for someone, and on the other hand, it can be even late 15. That means the puberty age is not fixed. You should start wearing a bra after noticing your breast size is increasing. At that period, you may feel pain in your breasts. And it is also an absolute indication of wearing the bra.
Which bra styles work best for small breasts?
A- It really depends on your choice. A wide variety of styles are available out there. Understand the purposes and measure your bust and band size perfectly; every style will work best.
How can I grow my breasts quickly?
A- Push-ups are the perfect and the best solution for increasing breast size. It doesn't help to increase breast size only; it also gives your body a good shape. Besides, you can also use padded and push up bra for enhancing your breast size.
Conclusion for Bra Buyers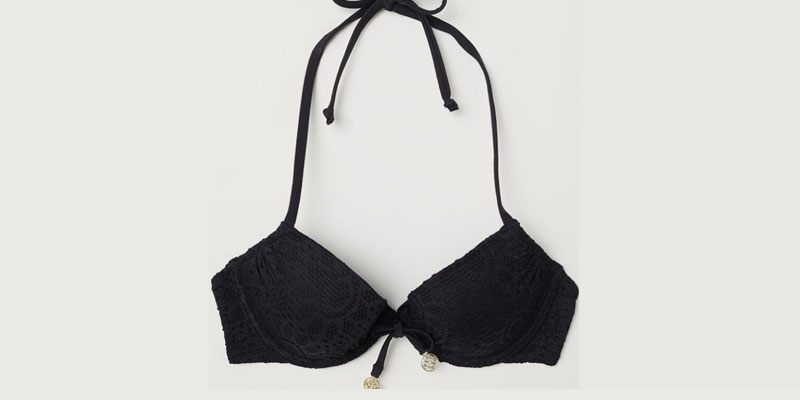 Somebody think small breast doesn't require wearing bras that is a misconception. And you always should remember small bras are also made for the support of the petite busts. That means small busts need the support, definitely. And you know there are many types of bras that are available in the market, and you should choose the right types. When you go for sports, then the sports bra is effective, and you should not wear a demi cup or soft cup bra at the time. Keep it in mind.
It is time to collapse the entire content, but before closing, I just want to let you remember again, wear the right size bra always. Yes, it is a bit hard to find the smallest size bra, but it is not impossible. If you exactly need AA size, never consider A cup.