Haven't you ever faced any trouble with your bra to wear under your favorite dresses? I face the problem with almost all my fashionable dresses. I need good support and that is why I always wear a bra with straps. But the straps are seen from the outside when I wear tank tops or other kinds of fashionable low-cut dresses. And I don't like it.
Do you think I allow the straps to show that look ugly? Not really!
I apply some tricks to hide the straps and no one can guess if I wear a bra or not! Unbelievable? Not at all!
I know how to look am I after hiding the straps. Yes, I can represent myself with my beautiful dresses in a better way even with a strapped bra. I use a very simple thing to hide the straps of my supportive bra. That is a hair tie.
Now can guess I'm going to disclose the hacks of how to hide bra straps with a hair tie. The hair tie, a very simple thing but it can make your back fashionable and strapless even while wearing a strapped bra.
How to Hide Bra Straps with a Hair Tie
You definitely wear different kinds of dresses at different times. The trick is almost the same for all dresses when you are applying the hair tie method but the outlook may differ. The details are below.
While Wearing Tops, Halter, Racerback, or Other Similar Type Dresses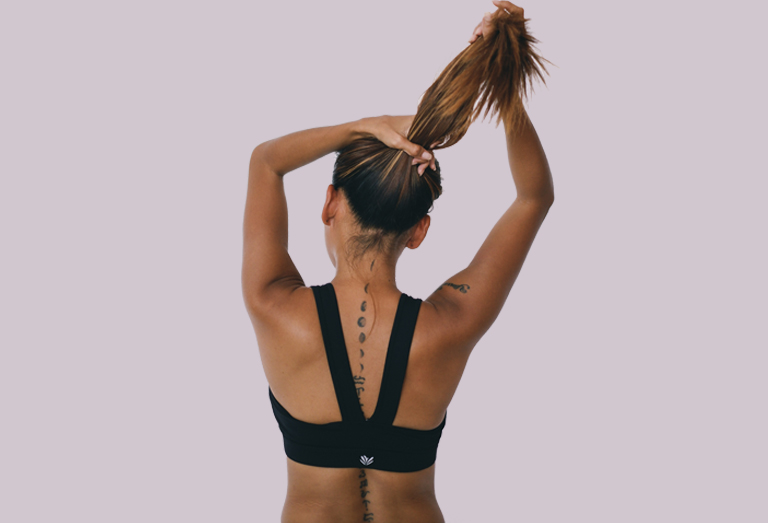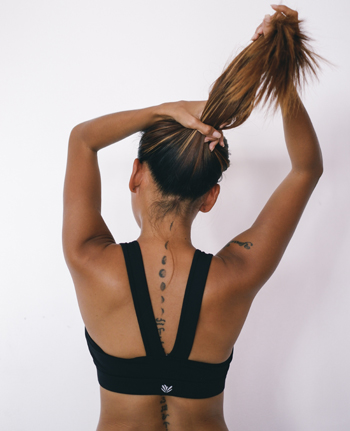 Almost we all love to wear tops or other kinds of beautiful dresses those are not best suited with a bra, especially strap bra as the straps don't look good. But you need to wear the bra because of ensuring proper support. A lot of women face this problem and don't find any effective way. But you can easily fix this problem with just a hair tie.
Just take a hair tie and then bring the straps close together on the back. Then tie the straps with the hair tie. You should ensure you have tied the straps at the point which lies under the back part of the dresses. The shoulder upper part lies under the dress's straps and the binding part remains under the back part of the dress. Very Simple!
While Wearing Low Cut Backless Dresses
A lot of women also like low cut and backless dresses. Some of them don't want to show anything in the upper chest. For those women, there is no option other than wearing strapless bras. In this case, you can have the bra which has the option of a removable strap. When you wear the low cut backless dresses then you just wear the bra without straps.
On the other hand, if you like racerback design you can follow the same instruction that I told for the tops like dresses. You can just simply covert your traditional bra straps into the racerback design which is really beautiful to look at. Got it?
Other Ways to Hide Bra Straps
Using a hair tie is definitely an effective solution but honestly speaking you might not hide the straps always with all kinds of dresses. That is why you should have known some other tricks so that you can wear all types of dresses hiding your bra straps. So, the ways are as follows.
Using Paper Clips
The use of a paper clip is not bounded to keep paper not moving. It has many other uses and many of them you already know, I think. But now it is necessary to know the bra straps hiding technique for you. Well, the clips are very much effective especially when you wear a bra under boat shape neck dresses or other kinds of wide neck dresses. At that time, the straps lie middle of the shoulder. Just keep the straps under the cloths in the back and shoulder using paper clips. Then you are ready to go anywhere.
Using Bobby Pin
If you wear the bra with spaghetti straps then you should follow this method. Yes, this method is ideal for spaghetti tops or this kind of dress. Just insert the bobby clips and tuck the bra straps under the straps of the spaghetti top. This method hides the bra straps completely and the clips keep the straps under the spaghetti tops for a long time even for a day.
What To Do When All Tricks Fail?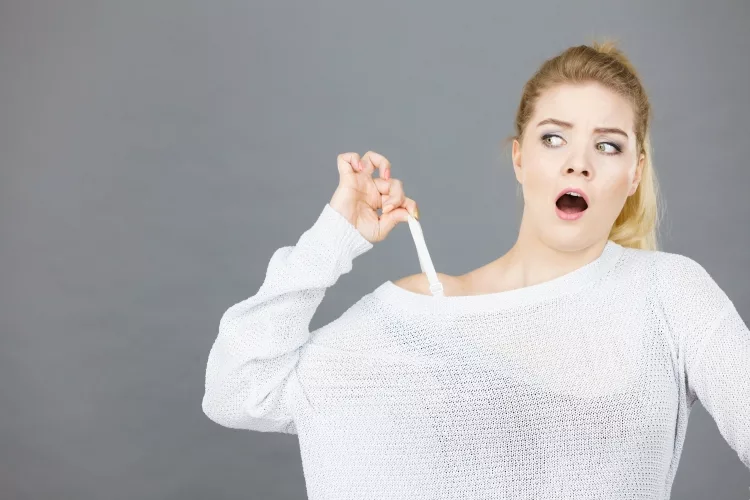 Which trick will be effective depends on what kind of dress you are going to wear. Sometimes it can also happen when no hack will work. At that time you will have two options in hand.
Option 1: Choose Strapless Bra
It is definitely a good option for you if you can wear the strapless bra. No matter what kind of dresses you wear, you can wear the strapless bra with almost all dresses. But most women face the common problem that the strapless bra doesn't stay up. Yes, most of them complain that the bra tends to fall down. That is why it is necessary to know how to keep the bra up.
Option 2: Use Clear Straps
Many women cannot wear the bra without straps especially the lady who has large breasts. They need more support to keep the breast up and the straps are necessary here. You can invest your money to buy a bra which has skin color or clear straps. If you choose the skin color straps, don't forget to match the straps with your skin. Besides, if you choose watercolor or clear straps, you can use the straps wearing a bra with any dresses. If you don't go without straps, and if no other trick works this technique is the best option for you.
Be Careful!
This section under the subtitle ''Be Careful'' is important for the women who are going to apply any method of the two bobby clip and paper clip. Just think, most of the time the clips are metallic. Usually, no clip has such a sharp pointed end that may injure you. But sometimes some bobby clips are found with a sharp end. That is why you should use both clips after ensuring that it won't hurt or injure your skin.
Bra Strap The End Line

If you can properly apply our method, we are sure you will be able to hide the straps effectively. You can see the title of this guide which exactly is how to hide bra straps with a hair tie. But have you noticed that I've shared here some other tricks? I share as you can solve this issue if arises in a different situation. Nevertheless, you can write to us if you face any other issue that can be solved using none of these methods.