Sweater or sweatshirt –we sometimes fail to identify which one is a sweatshirt or sweater. The main reason behind this, they almost look the same and have the same root word, "sweat." So, we consider them as the same attire, either sweater or sweatshirt.
Then, what is a sweater? What is a sweatshirt? What are the differences between sweaters and sweatshirts?
Well, you can keep your eyes on this article containing sweater vs. sweatshirt information. You can learn their types, specialties, purpose of usages in detail.
Sweater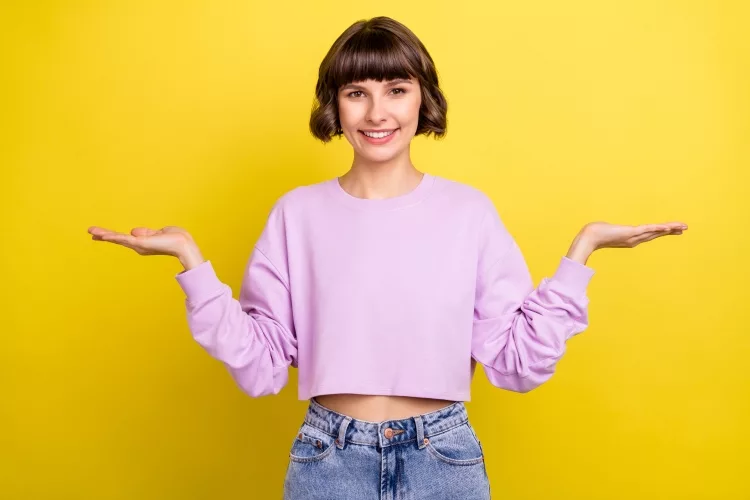 British and Australian English people call sweaters "Jumper." Some areas in Australia recognize it as "Windcheater." Windcheater is a kind of windproof jacket having zip and an elasticated welt. In some sense, the jumper is more prevalent in America than a sweater.
If we think of American dictionaries, a sweater is known as a "pullover" or "cardigan." British dictionaries call cardigan as a genre of the jumper. Cardigan opens and fastens down the front, having zipper or buttons. On the other hand, we can put on pullovers over our heads.
According to the Oxford dictionary, a sweater (in terms of British) is a cloth which we pull over head. In contrast, jumpers are not chosen for doing so.
Materials of sweater:
Traditionally, people used wool to craft sweaters. Wool works as an excellent insulator. But present industries use cotton, polyester, synthetic fibers, or a mixture of these materials with the advancement of technology.
The interlocking loops of a consistent yarn, which we know as knitting, produce sweaters. Knitting makes the sweater elastic and flexible to wear. Engineers use technology to give different patterns and graphics to these clothes.
In general, sweaters are primarily worn in the winter season and areas with low temperatures. The knitted material keeps the body warmer and comfy under the cold weather.
Designs of sweater:
The sweater front-side can be either open (cardigan) or closed (pullover or jumper). It has different neckline designs such as turtleneck, V-neck, crewneck etc. Again, the sweater's hemline can reach both above or below the hip that overlaps the pants or skirts.
Some petite women can wear some sweaters as short dresses. Sleeve length of sweater can be different from the three-quarter, short, or full lengths. Most sweaters usually do not have any pockets like sweatshirts.
How to wear:
A sweater is a cloth with long sleeves. The craftsmen use knit or crocheted materials to produce sweaters. It can cover the upper portion (torso and arms) of the human body. Some sweaters do not have any sleeves. By this, you can call it a slipover or sweater vest.
Oxford English Dictionary says that a sweater is a woolen vest or jersey that people wear in rowing and other athletic fields. It also adds that a sweater can reduce the wearer's weight. However, it is now used as a protection from getting cold after or before exercise.
Anyone can wear a sweater quickly, regardless of their age or gender. You can put this over another cloth like shirt, t-shirt, tie, belt, or tights. Also, it can be worn next to our skin. The sweater can be both casual and formal so that you can wear it to go anywhere.
Types of sweaters:
There may be a question that come to your mind. How many types of sweaters available to wear?
Some experts categorize sweaters into four major types: cardigans, pullovers, tunics, and turtlenecks. However, you can find more types of sweaters like these:
Cardigan (named after James Brudenell, the Cardigan's 7th Earl)
Pullover (contains no button and pulled over the head)
Crewneck (has round neckline without collar)
V-Neck (quite formal, layered over a collared shirt or fitted blouse)
Tunic (loosely cut, hangs a bit lower on the body)
Turtleneck (has folding high collar while covering the neck)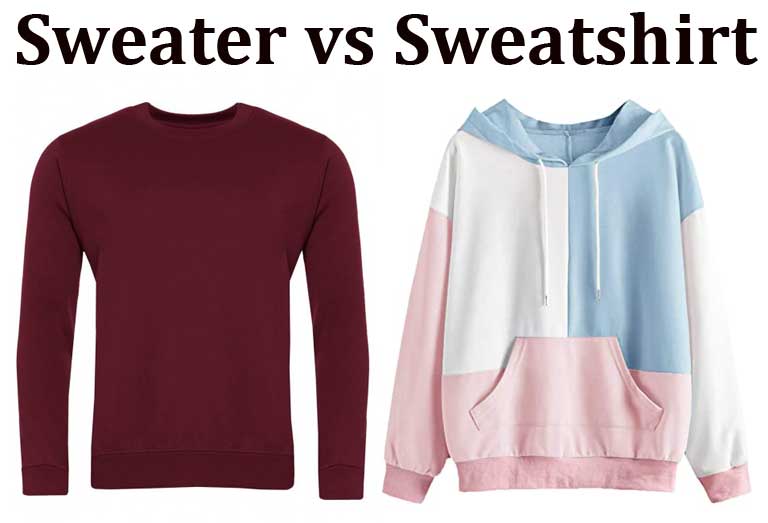 Sweatshirt
A sweatshirt may sound like a sweater. But it is a different cloth for wearing in all the seasons, unlike sweaters for winters. It is known as "jersey" in British English. Even they are also known as "sweatsuits" for their absorbing quality. It may have both an open and closed front. If the jersey has a hood, it would be called as "hoodie" that is popular nowadays.
You can wear a sweatshirt on the list of fitness equipment. It is a better alternative to workout attires. In easy words, sweatshirts are designed to absorb moisture. These clothing items are lighter and less dressy than sweaters.
Sweatshirts maintain the core body temperature, whereas sweaters may increase it. You can reduce body heat in the summer season whereas stay comfortable in the winter season. Besides, it is typical loose, a warm shirt that is more functional and versatile than sweaters.
Materials of sweatshirt:
Sweatshirts are generally made with fleece, a heavy fabric. Fleece has a finish on one side and a soft, fluffy nap on the opposite side. You can wear it by keeping the soft side inside and the finished one out. In this way, fleece traps the air by the nap. Therefore, cotton, polyester, synthetic fibers, and other materials are also helpful for making sweatshirts.
In the industries of sweatshirts, cutting and sewing patterns are mainly used techniques to produce them. This method is also known as weaving. The fabric of sweatshirts is less elastic or flexible comparing to sweaters. For this, they stay loosely connected to the body.
The patterns and graphics of sweatshirts are the main concerns of the designers. They use the weaving method or add prints, dyes, embroidery, paints, sprays etc., to increase the sweatshirt beauty.
Designs of sweatshirt:
Sweatshirts are more fashionable, athletic, and colorful in design. They are the omnipresent part of modern youth culture and counterculture. Also, these loose, oversized pullovers have no collars but long sleeves. These clothing pieces are mostly found among young adults, hipsters, singers, or athletes.
Sweatshirts may have or not have a zipper for easy wearing. They have elastic cuffs and suitable designs to use after or before exercise or heavy physical activities. You may wear them in weight loss training, at the gym. You can also cover yourself under rain and snow with the hood of the hoodies.
There can be several pockets outside of the sweatshirts. You can keep your hands or other handy gadgets inside the pockets.
How to wear:
Can a sweatshirt be worn in summer? Yes, in fact, they are best for use in the summer season. The quality of fabric helps to absorb moisture. Besides, the long sleeves protect the arms from the outside temperature.
You can put them on while you are ready for a morning walk, jogging, or going to the gym for workout sessions. These sweatshirts add style to your outfit. You can wear a contrasting sweatshirt with skirt and ankle boots. Again, it may go well with jeans and sneakers.
Types of sweatshirts:
Sweatshirts are not so many categories like sweaters. Instead, they have versatility in features and styles. But you can have some ideas about the common types of sweatshirts available around the stores.
Here are some of the sweatshirt types:
Zipper (primary type, college style, may have a hood)
Hoodie (stylish, innovative, and sexy look, mature style)
Polo neck (classic but mega fashion, suitable for cold places)
Combined (relaxed, casual, and warmer)
So, you now have the idea of what a sweater is or how a sweatshirt is made. This is the synopsis of the article:
| | |
| --- | --- |
| Sweater | Sweatshirt |
| Provides warmth to the body | Absorbs sweat |
| Made with knitting method | Made with cutting and sewing method |
| Made of lightweight fabric | Made with heavy but soft fabric |
| Can have a long sleeve or be sleeveless | Have long sleeves |
| Usable in the winter season | Suitable for any season |
| May be or may not have an opening on the front side | May have a zipper opening on the front side |
| No hoods usually | May have hoods |