Halter tops are popular among the young and new generation who loves to flaunt their body and believe in body positivity. These tops have two straps that are mainly fastened with a clasp or button around the neck, revealing the whole back. Nowadays, youthful women and women of different ages are opting out to get in halter dresses. But the most irritating and confusing part of wearing a halter dress is getting the right bra to wear underneath. The classic bras mostly come with a back belt and shoulder straps that conflict with the halter pattern. So these women often get in riddles about what bra to wear with halter tops; we are here to solve that problem for you.
What Bra To Wear With Halter Tops?
There are multiple bra options for you to wear with those stylish halter tops. We will get in the details and help you out with little tips and tricks so you won't have to pay for any lousy and expensive bras to wear your favorite backless dresses.
While wearing clothes like a halter or backless gowns, the risk of falling straps or hook and belt raveling is a headache. In these cases, the regular bra doesn't always work, even with the finest DIY tricks. You got to spend some extra cash on these specially made bras for those dresses. But we will help you to get the most satisfactory result at the least possible cost. While making this list of bras, we emphasized priorities like discretion, support and coverage.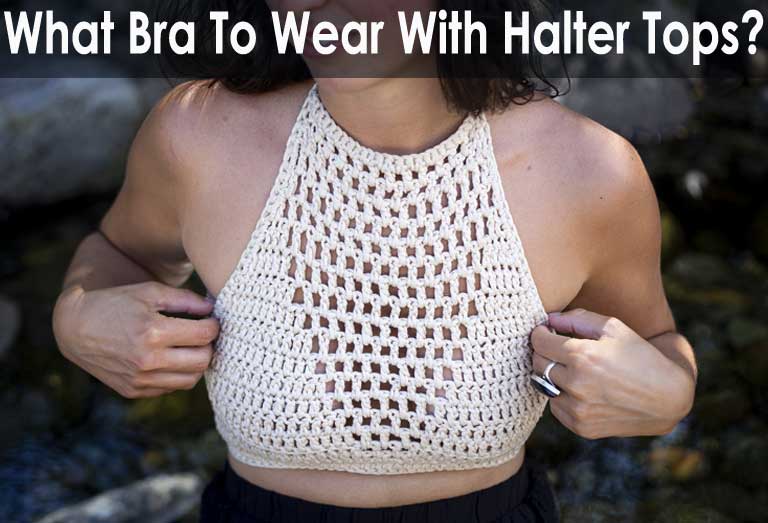 Bras with halter Nek
There are multiple bra manufacturing companies that like to keep up with the trends and modernizations. They make super comfortable and beautiful halter neck bras for women. These bras are the best buddies of halter neck tops.
These halter neck bras are specially designed to sync with the halter tops perfectly. The back strap is fitted down, leaving the dress to flaunt your back without showing the hooks or shoulder straps. These bras are also very good with coverage and keep the shoulder burden-free. So, if you get irritated with those painful shoulder marks from regular bras, this can be a good option for you.
Halter neck bras are readily available in the branded bra stores. If you are wondering how to get them in this pandemic, you can just order them online.
Adhesive Cups
As you can tell from the name, these bras use adhesive to stick on your body. Though it may sound super uncomfortable to you, they are not that much painful and offer a little support and coverage. And the best thing about this adhesive cup is they get totally invisible under any kind of dress you wear.
You might have wondered how celebrities pull off any revealing outfit that still looks to the point without showing off any bra parts. Well, this is their secrete most of the time. But keep in mind the adhesive can create some skin irritation if you have super sensitive skin. And if you have got a big blossom, these adhesive cups won't work for you at all!
These cups can perfectly sync with a halter top if you have the right size for you. They push the boobs sideways and pop up the cleavage, which goes perfectly with your halter tops. If you are afraid of making them visible from the underarms area, you should get sticky cups without wings.
Strapless Bra
Strapless bras are used to wear under strapless dresses, and they go perfectly with any halter top. There are some pretty good quality strapless bras available in the market with detachable back straps and removable shoulder straps. So you will be able to get the best of both sides.
From all the other options, you will have strapless bras that will give you much superior coverage and support your boobs better. There are varieties of sizes and styles available in the market for these bras. If you love to wear off-shoulder clothing and want the coverage, strapless bras will do the magic for you.
If your halter top has a deep-plunge neck, you should go for other options as the strapless bras mostly have a high neck, which will show off if you have an extra deep neck.
Tube Top or Bandeau
The bandeau is mostly one cloth wear that has no straps and can be detached from the back. Most tube tops are made with stretchy garments and hardly have any shaping facilities in them. These bras or undergarments don't offer much superior support for boobs.
But if your main concern isn't about shape, you can easily wear them under halter clothings. Most of the bandeau is made with comfortable pullover fabric and is quite comfortable if you grow likeliness towards them. But if you are looking for something to give you better support or push-up effects, you should go for those additional cups.
Silicon Cups
Silicon cups are made with comfortable, lightweight silicones. They are a kind of barrette that sticks with the skin and mostly are skin-colored. These cups are literally invisible and perfect match for those filmy dresses. Halter tops can be worn with them without any tension.
Though these cups don't show off, but they are a little uncomfortable to wear and give very little coverage and support. If you have big boobs, it's best to avoid them.
Final Verdict for Halter Top Buyers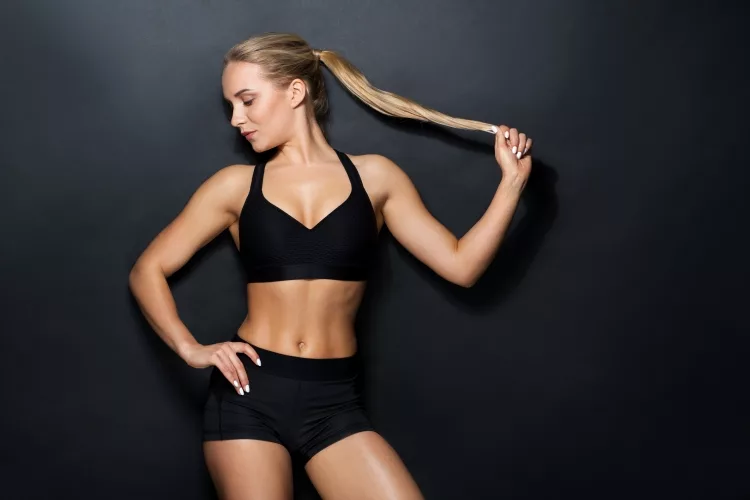 Many people suggest not wearing a bra with halter tops but if you have bigger blossoms or little saggy ones, going braless isn't even an option. But even if you wear a regular one with a backless or halter top, the sudden reveal of bra hooks can destroy your whole outing. So what to do? Avoid wearing these dresses? Don't get ridiculed with these problems, and go out flaunting your beautiful backless dresses with these super helpful bra options. Now you will never have to wonder about what bra to wear with halter tops ever again. You will have fun, and your breasts will also be in the right place!