When summer comes every woman loves to sunbathe or self-tanning to get the golden aura to look attractive and sexy. Of course, tanning under the sun or on a sunbed, or at home rejuvenates your skin and offers vitality.
But then you immediately have to think about all these elements including UV-rays, chemicals, moisturizers, and even then bronzer and tanning lotion or creams. Thus, you may want to take a shower almost instantly.
Thus, one question becomes extremely important, 'How long should you wait to shower after tanning?" Although it depends on the type of tanning you use and also on your skin sensitivity, it usually ranges from two hours to a few more hours.
Also, you should use lukewarm water and avoid using soaps after a sunless or sun-tanning. So, let's go deep into these details including the exact time to shower after tanning.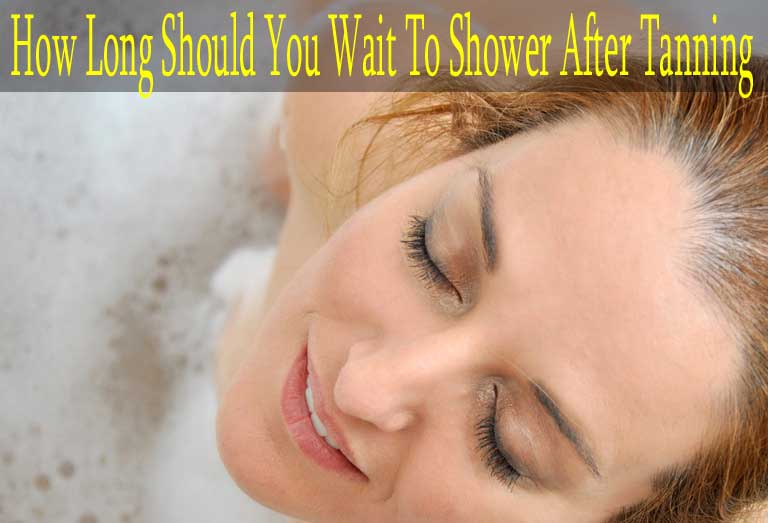 How Long Should I Wait To Shower After Tanning?
Tanning has become a trend and fashion since the early 1950s and it has never faded away since then. The bronze and somewhat brown glow on the skin is a favorite of all, irrespective of men and women. However, most people are confused after the tanning session on the gap between their shower and tanning session.
If You Suntan:
If you take a sunbathe for few hours, the rule is simple here. You must not wait and take a shower almost immediately. It is crucial becomes sunbathing for hours expose your bare skin directly to UV-rays. Also, your skin gets heated due to sun temperature. Thus, perspiration and salt will accumulate on the skin while it gets dirty too.
Furthermore, while sun-tanning, you would use lotion and oil on the skin. With the sun's heat, these elements also melt or become soft. Hence, you should remove the dirt, softened lotion, or oil along with the perspiration after several hours of sunbathing.
So, you should shower without any delay. Also, it will rejuvenate your skin. When you shower, don't use too hot water and use moisturizer right away after the shower.
If You Use Tanning Bed:
Physicians and beauty experts say that you should wait for at least two hours after self-tanning in a tanning bed. However, some people debate that you can still shower immediately after a session in the tanning bed.
People who suggest waiting for few hours before taking a shower after the tanning bed session are particularly concerned about the fading of the tanned effect. But this is a myth and not applicable for a tanning bed.
It is because a tanning bed will actually tan the melanin on your skin beneath the surface. Thus, it works under your skin with melanin pigmentation and not on your skin surface. So, the shower water doesn't have any impact on the melanin here.
So, you can shower comfortably after a nice and pleasing tanning bed session. However, some salons will recommend you to wait for at least 30 minutes to shower after using the tanning bed. It yields the best tanning result.
If You Use Bronzers:
Pregnant woman uses bronzers instead of the conventional tanning lotion, spray, or gel for safety purposes. Also, it is popular among many women. When you use bronzers, almost everyone agrees, you should wait for 1 to 2 hours before taking a shower.
It is crucial because bronzers are applied on the skin surface and may get easily washed out with the water.
If You Use Self-tanning Spray Or Lotion:
Whether you use self-tanning lotion, gel, or spray, it works directly on the skin surface. So, you will have to wait to allow the spray or lotion to sit on the skin. Thus, you must not shower immediately after using spray or lotion as means of fake tanning.
The reason is that tanning spray color continues to grow for at least the next 24 hours. Thus, the color will become more prominent and lasting when you wait longer before the shower. Thus, salon experts suggest waiting for at least 4 hours after spray tan.
When you shower, use lukewarm water and don't scrub the skin for the first shower time. Then, you can expect the tanning to last for at least 6 to 8 days. It won't fade away soon.
Next, for hairbrush tan, you must wait for 5 to 8 hours before shower. At times the bronzer might get washed away slightly during shower time. It is common and so, you should not feel worried.
Tips for Shower After Tanning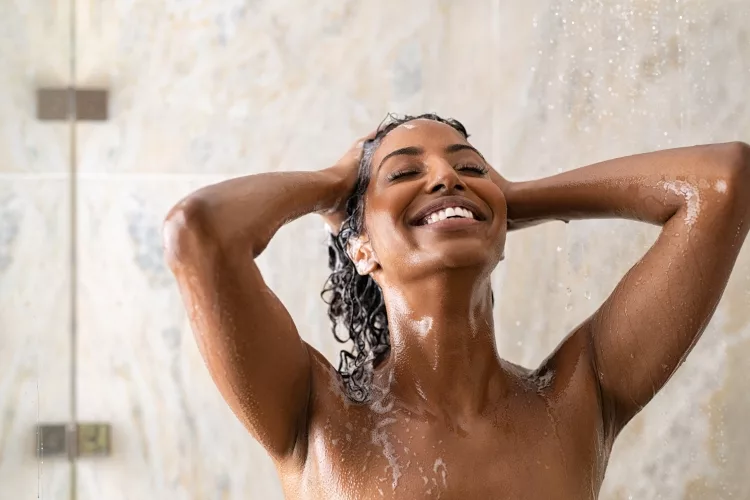 You now know the waiting time for a shower after a good sunbath or self-tanning session. But how should you prepare for the first shower after tanning? Or, how do you take the first shower after tanning?
Here're few tips that will help you with the cause.
You must avoid a hot shower after tanning time. It is important since during the tanning session your body already accumulated added temperature. So, it is already in a heated condition. Thus, a hot shower or Jacuzzi will only add heat to the existing condition. It is an enemy for your skin and body.
When you shower uses lukewarm water. It helps you get a soothing pleasure. Moreover, lukewarm water helps to relieve your body stress during the shower.
If you use a shower-gel, make sure it is alcohol-free. Alcohol will dry the skin. Thus, the tanning effect will fade away faster than you anticipated.
You should take a shower and not a bath. Don't know the difference between shower and bath? Well, the shower uses the least water compared to the regular bathing session. A shower head will flow at a rate of 2.5 gallons per minute. So, you won't use more than 10 to 15 gallons of water for a shower. The bathing session will cost you around 60-70 gallons of water. So, it is suggested that you take a shower after tanning.
You shouldn't apply soap to the tanned parts of your body. Soaps come with chemicals that will break down the oil formation used in the spray tan or lotion. Hence, it is suggested to use alcohol-free shower gel.
Instead of rubbing the towel on the body after a shower, tap it gently on the tanned body parts. The tapping will soak the water while not disturbing the oily formation and moisturizer during the tanning time.
After the shower, apply a good-quality moisturizer to the body. It helps to retain the hydration inside the skin. Thus, your tanning effect lasts longer.
Shower After Tanning Conclusion:
So, here's the summary of how long should you wait to shower after tanning. You must shower without any delay after a sunbathing session. For spray tans, you should wait at least 4-6 hours. In fact, for fake tans, it better to wait as long as you can to shower. It permits the spray tan or gel to grow the golden color better on the skin.
And while you shower, keep things simple after tanning. Use lukewarm water and don't scrub anything on the skin. Gently pat the towel to wipe out the water and apply moisturizer finally.