Why do my bra straps keep falling down? I guess you have been asking yourself this same question over and over again. I know this because the correct answer isn't even available on the internet. The famous bra brands will tell you to go for a downsize option, but we all know that doesn't always work! I changed tons of brands and evolved around all those promises and uncomfortable cup sizes. But as usual, I ended up standing on the same departed platform. So, I did some in-depth research and combined them with my personal experiences to solve this problem. That's why I wanted to share with all the ladies out there who are struggling with this annoying problem!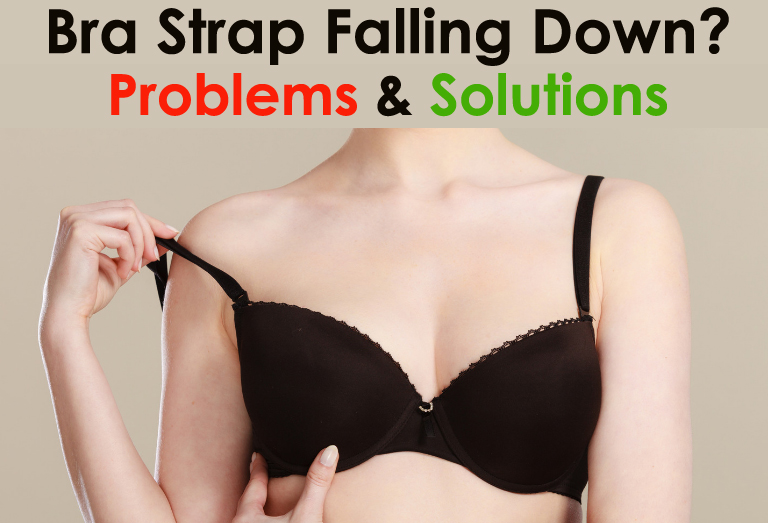 The Possible Reasons Why The Bra Strap Fall Down
If you are reading this, you probably know how intriguing the situation can get when you are at a party or just casually traveling in public transportation; a falling bra strap can be dead drop embarrassing! You might have cursed the bra company or just your body as you are confused why this hefty situation should occur.
Check here, maybe one of these reasons is causing the problem for you-
You might have gone down to a smaller size
First of all, check your most recent bra size. So many of the time, women get down a cup size because of losing weight or stopping nursing a baby. But they don't realize and keep getting their previous sizes. If this is the reason for you, just going down a size will easily solve your problem.
You might have got a short torso than usual
Many times, ladies with short torsos and bigger cup sizes face this super frustrating problem and deal with it every day! Here the deal is the bra brands mostly make bras for standard body sizes. But every woman has got a unique body size. Some have got the blossoms a bit upper, and some have it in a bit lower position.
You might be an upper blossom person
Women with upper blossoms mainly face this problem. And the problem gets worse if she has a bigger cup size. At the same time, people who have short torsos face it too. So if you were wondering why a standard bra has the perfect cup size for you with oversized straps? This is the reason behind this whole dilemma.
The problem is you can't just drop a size and solve these problems. Falling to a smaller size means a smaller cup size. And you must know how much uncomfortable it can get by wearing a smaller cup-sized bra!
How To Keep Bra Straps From Falling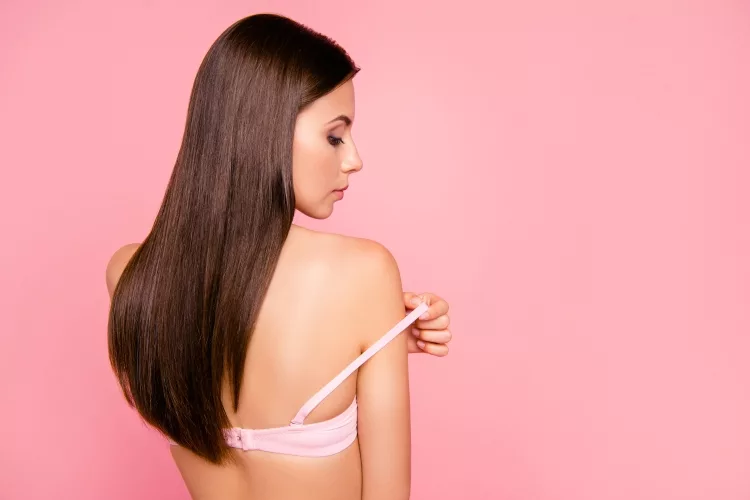 Here are some simple, doable methods you can do to stop your bra strap from falling down-
If your bra strap has got an Adjuster, simply keep adjusting It
This is the most simple and your go-to solution if you are struggling with this problem. Check if your bra comes with a built-in adjuster, and keep adjusting it until you get a comfortable, snug fit. There is a simple way to check if your bra strap is perfectly snug. You will have to put your two fingers between your skin and the bra strap. If the fingers can be placed easily yet gives a snug feeling, it is a perfect fit.
Use a bobby pin
If you don't know what bobby pins are, bobby pins are a bit round-headed safety pin primarily used to stick hairs to keep them in place. If your bra doesn't have any adjuster and you really need to wear that particular bra, you can use a bobby pin to clip the strap with your inner tee. This is not a permanent solution but can save time and effort if you are caught up in a busy schedule.
Try to shift to a sports bra.
We all know about the comforts and keep-in-place stuffs sports bra provides us with, but have you ever thought about wearing a sports bra not only at the gym but also any casual outing? It could save a lot of money too as they cost half of those not-so-useful designer ones.
It's a great idea until you want to wear something revealing or go to a beach. But you can try this idea on those busy office days at least!
Get the band tailored!
This may sound like a lot of works but trust me; you will be satisfied with the long-term satisfaction it will bring! The most convenient way to keep your desired cup size and the snug fit band is to get it tailored.
The process is easy if you own a sewing machine. Just wear your bra take measurements of how much band size you need to sew to get a snug fit, and sew it with a machine. If you don't have a sewing machine, you can do this sewing by hand. This will also be the same process as before. You will just have to get a needle and a thread.
If you don't know how to sew or never have done it, just Google it, or you can watch some handy YouTube videos. But if still, that doesn't work, you can go to any tailoring shop and get it done. Trust me; there is no shame in this.
But always remember you should never use any underwear or lingerie for more than six months. If your bra straps are loose and it ages more than a year, then the possible reason is elastic in your straps might have been stretched out, and that piece of antique needs to leave your wardrobe. Never forget to follow these basic hygiene rules and follow the safety measures.
Final Verdict
Comfort always comes first when we are talking about bras. And a falling bra strap can destroy the whole comfort level and make you super self-conscious while wearing it out. If loose bands create problems for you, they won't anymore as you have these bunches of easy techniques to apply. By following these methods, you can manage your bra strap and those falling tank tops or swimsuits. Let us know how these tips came in handy for you.