It's summer time, after a long hauling winter and once again sunny sea beaches are ready to tempt you for tanning. And you might not resist the temptation to get glowing skin with sun-kissed tanning. Although it leaves an attractive golden shine on your skin, the UV rays won't stop taking their toll on the skin too.
Thus, using a sun protection factor (SPF) is a must. While many people would choose the SPF sunscreen cream, using the best tanning oil with SPF is easier and comfier. Applying the oil before tanning is mess-free.
Many people think that applying SPF won't give them the dream Amazonian glow after tanning. But that's not true. You will get the most desired tanning effect even after applying tan oil with SPF. The additional advantage is that these oils protect your sensitive skin.  It even reduces the chance of skin cancer significantly.
Here, we present you four beneficial oils with SPF to help you enjoy the tanning and seaside fun time.
What is the best tanning oil – At a Glance
| IMAGE | PRODUCT | Price |
| --- | --- | --- |
| | Sun Bum SPF 15 Moisturizing Tanning Oil | Buy Now |
| | Hawaiian Tropic Dark Tanning Oil | Buy Now |
| | Banana Boat Sunscreen Protective Tanning Oil | Buy Now |
| | Moroccanoil Sun Oil SPF 15 | Buy Now |
The 4 Best Tanning Oil With SPF
The most effective tanning oil will not only protect you from harmful UV rays but also offers optimum hydration. Thus, your tanning effect would last long. So, it is a two-way advantage for you.
Take a look at these SPF containing tanning oils for your skin protection and shining glow.
Sun Bum SPF 15 Moisturizing Tanning Oil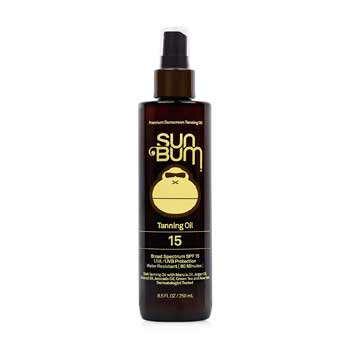 The tanning oil comes in a convenient spray bottle for quick application on the skin. You can spray and rub it on the skin. It will both protect and nourish your skin. The Sun Bum oil comes with SPF 15 rating for protection against UVA and UVB rays. Thus, you stay safe even after long exposure under the direct sunlight on beaches for tanning. Also, it suits sun bed applications.
It contains avocado, coconut, argan, and marula oil. These essential oils blend with organic green tea butter and aloe vera to provide your skin with all necessary nourishing. It moisturizes your skin with natural hydration. So, you get an organic and natural intensification of the tanning effect for the golden glow.
Also, its mild smell ensures your attractiveness. Furthermore, it is free of Paraben, cruelty, and gluten. It is also hypoallergenic. Thus, it assures your all-day tanning and fun in the sea beaches with the desired shine.
Best features:
It comes with SPF 15 rating
All-organic mineral oils
The ingredients are hypoallergenic
No animal cruelty products used
---
Hawaiian Tropic Dark Tanning Oil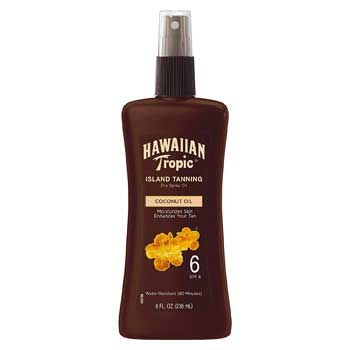 The Hawaiian tan oil with SPF is a unique blend of essential antioxidants and rich natural oil. You get the perfect skin nourishment to keep it smooth, even, and glamorous. The tanning oil is made of exotic Hawaiian botanical ingredients.
It has SPF 6 rating. It is sufficient to protect your skin from UVA and UVB rays. On top of it, the antioxidants nourish your skin for a natural-looking radiance. It removes many skin blemishes from the skin to give you a perfect look.
The oil extraction has been blended carefully to give the skin a light feel. It doesn't cause skin irritation and allergic symptoms. It also doesn't contain any animal cruelty and ideal for vegan people too. For the best result, apply the dark tanning oil for at least 15 minutes before going out to the sea beach. It will protect the skin and elevate the golden tan effect.
Best features:
The tan oil has SPF 6 rating
A unique blend of Hawaiian botanical extracts
The oil contains nourishing antioxidants for the skin
It leaves a soothing lightweight feel on the skin
---
Banana Boat Sunscreen Protective Tanning Oil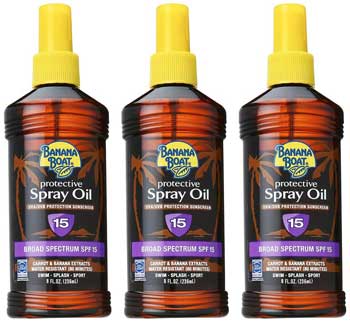 The Banana Boat oil has sunscreen protection. Your skin deserves some care and treats. You can use the tanning oil with sunscreen to pamper the skin and get the glowing radiance. Once you apply it and go on for sun tanning, you remain safe from the harmful UVA and UVB rays.
It has SPF 15 rating and you get all-around protection with it. The oil is Reef safe. So, it doesn't contain octinoxate and oxybenzone. It, thus, doesn't run the risk of coral bleaching on skins, a common problem faced during sun tanning or seaside activities.
The natural ingredients include aloe vera and carrot extract. Carrot is known for rich antioxidants such as carotene and vitamin C. It promises to make your skin smooth with a natural glow. The tanning oil also has vitamin A and E rich ingredients. It keeps the skin healthy and attractive.
Also, the oil will nourish and hydrate the skin to extend the tanning effect. It thus helps the skin to enjoy a glamorous look without the penetration of harmful UVA and UVB rays.
Best features:
It has SPF 15 rating.
The sunscreen is reef safe
Rich vitamin A, C, and E ingredients
Boosts the sun tanning effect to maximum
---
Moroccanoil Sun Oil SPF 15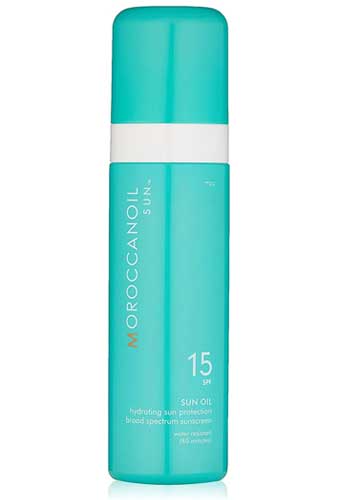 Do you want an all-natural and radiant sun glow? Well, the Moroccan oil will provide you with the same result while protecting the skin from harmful UV rays. It is purposefully made lightweight and so, is skin-friendly.
It feels light on the skin and easy to apply too. You just have to pour it on the hands and rub before applying.  It is made with argan oil and vitamin E. Argan will provide smoothness on the skin. Also, vitamin E nourishes and hydrates the skin. The combo, therefore, offers an extensive tanning effect with a boosted comfort.
It contains rich antioxidants for further usefulness. Its SPF 15 rating ensures protection from the broad spectrum of harmful rays. Also, it is water-resistant for 80 minutes. It thus helps you in a nice pool swimming after the sun tanning session. Lastly, its Monoi scent leaves an attractive fragrance trail for long hours of attractiveness.
Best features:
It has SPF 15 rating.
The sun oil is water-resistant
Vitamin E for skin nourishment
Absorbs quicker and better in skin
---
What to Look Before Buying Tanning Oil with SPF
A suntan oil must suit your skin time. Otherwise, it might harm the skin instead of protecting it from the sunrays.  Thus, you must be choosy to pick the tan oil with SPF.
To begin with, you must check the SPF rating. While there's no strict rule of the effective SPF rating, ideally higher SPF rating is better for protection. You can choose the 15 SPF rating for optimal protection from the broad spectrum of sun rays.
Also, darker skin will need less sun tanning. Thus, people with a dark complexion will benefit from lower SPF oils. On the contrary, fair skins will need more sunburn for the natural and attractive suntan effect on them. Henceforth, you need a higher SPF rating for the best results.
Next, you have to consider the ingredients of the suntan oil. It should contain different vitamins to nourish and hydrate the skin. Most oils will contain Vitamin E and C for this purpose. Also, it should be free of gluten, paraben, octinoxate, and oxybenzone. Furthermore, look for hypoallergenic tanning oil SPF for sensitive skins.
Also, tanning oils are mostly for dry skin with quick-absorbing capacity. If you have oily skin, you might opt for tanning lotions. It relieves you from a greasy feel on the skin. Lastly, decide how many hours you will spend on sea beaches and choose the oil accordingly. If you decide to stay for long hours on the beach, try to get tanning oil with SPF with an extended effect.
---
Conclusion
When summer advances and the sun reveals its brute force over the sandy beach, it's time to enjoy the perfect suntan fun. But don't forget to apply the best tanning oil with SPF to protect the skin from UVA, UVB, and other rays of the broad spectrum.
Most of these tan oils with SPF also contain vitamins and organic ingredients. It thus nourishes and hydrates the skin. Thus, you will enjoy better protection, healthier skin, and a radiant glow that none can ignore- we promise by Jove.