Whether you are a man or woman, dark lips are particularly problematic. It will shrink your confidence, attractiveness and affect personality. The darkening can be caused due to many reasons. So, it includes lipstick strain, hormonal imbalance, frequent smoking, sunburn, etc.
Whatever may be the cause, every people desire to keep their lips shiny, polished, attractive and dark-free always. Below, I have reviewed seven best lip balms for dark lips that will do wonder to bring the shine and healthiness of your lips in the quickest possible time.
Also, my aim of this review on the lip balms is to help you get the healthy lips, not pink ones since pink lips don't always mean healthiness.
Editors' Picks for Top Lip Balms for Dark Lips
Lip Balm At a Glance:
| IMAGE | PRODUCT | Price |
| --- | --- | --- |
| | Burt's Bees 100% Natural Origin Moisturizing Lip Balm | Buy Now |
| | Tinted Lip Balm by Sky Organics | Buy Now |
| | Blistex Medicated Lip Balm | Buy Now |
| | USDA Organic Lip Balm by Sky Organics | Buy Now |
| | Maybelline New York Baby Lip Balm | Buy Now |
Review of the 7 Best Lip Balms for Dark Lips
The review includes lip balms for men and women both. These products are rich in moisturizer and natural SPF. These will remove nicotine marks, sunburns, black patches, hyperpigmentation, lipstick strains and other causes that darken the lips.
So, you will have a brighter and lovelier smile.
Burt's Bees 100% Natural Origin Moisturizing Lip Balm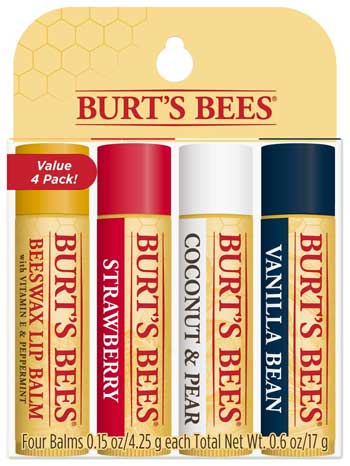 This lip care product comes from Burt's, one of the leading and most popular skincare specialist in the US. It is made of 100% natural bee wax and contains no chemical at all. So, it is safe for all types of lips without a doubt.
It oozes with over ten natural ingredients to take care of the lips. The moisturizing keeps your lip hydrated. So, you won't face dry and chapped lips anymore. Its natural fruit extracts and beeswax keep sunburns and darkening away too.
It comes in a pack of four and offers four attractive and natural flavors. The vanilla bean, coconut and pear, strawberry and original Beeswax flavors let you pick the right lip balm for the right mood. Also, it refreshes the skin and gives you a younger look.
Pros:
Free of petroleum, phthalates and parabens.
All-natural ingredients and flavors
Protects lips from harsh sun rays
Heal damaged and chapped lips
Cons:
The safety cab opening is a bit tough

Tinted Lip Balm by Sky Organics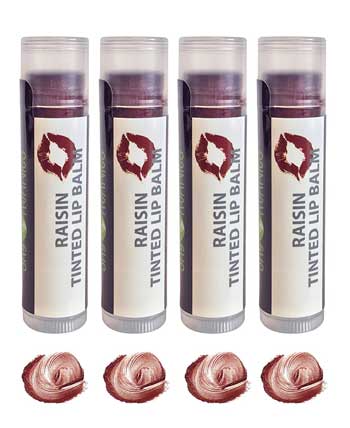 If you have sensitive lips, we recommend you this organic and tinted lip balm from Sky Organics for you. It is made of 100% organic and non-toxic elements that remove the darkening of the lip. Also, it heals the chapped lips without any chemicals.
It has Vitamin E and cocoa butter combination and pure natural hydration. So, it revives the lips' freshness by removing the dark cells. So, your face becomes even more attractive and youthful. Also, it is made of non-toxic materials and so is safe for use.
Its moisturizer effect hydrates lips during the wintertime, and you feel comfortable. It comes in a pack of four and with organic resin and coconut flavor and four shades.
Pros:
Perfect for sensitive lips
Comes in four engaging shades
Free of chemical and toxicity
The packaging is recyclable
Cons:
Recommended use only for teen and women

USDA Organic Lip Balm by Sky Organics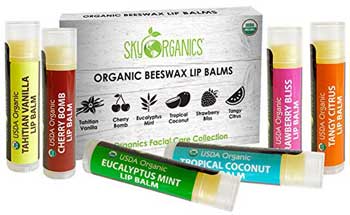 This is another lip care product from Sky Organics, and it loads with natural Vitamin E from fruit extracts. The multipack comes with six natural and tempting flavors. It is so compelling that you would want it to lick and eat- be cautious.
It is 100% organic. Also, chapstick is free of chemicals and toxicity. So, it is usable for adults and kids alike. This lip balm has USDA certification, which further guarantees you about quality and results of the item.
It revives chapped lips and protects harsh sun rays. So, you will get fresh, bright and pink lips within a relatively short time. Plus, its six attractive shades and flavors are the perfect match to all conditions and moods.
Pros:
100% organic and USDA certification.
Safe for sensitive lips of all ages
Six chapsticks with the delicious smell
Earth-friendly packaging
Cons:
The smell is too delicious; try not to eat it.

TREAT© Jumbo Organic & Cruelty-Free Lip Balm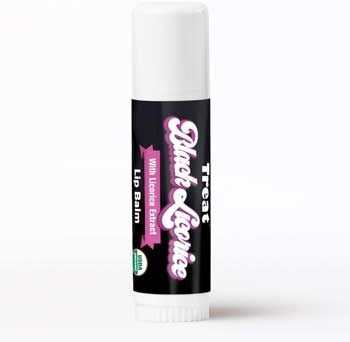 This chapstick from Treat claims to be made cruelty free. So, what does it mean? It means that the product hasn't been used on any animals for experiments. If you love nature and animals, you should get one of them.
The lip balm comes in a sizeable adorable tube. It is 3X bigger than the regular sticks. So, it adds significant value for the money. Plus, its coconut oil and shea butter combination take care of the worst chapped lips and revive a fresh look. It also nourishes the lips with moisturizer and fruit extracts.
So, you will love the comfortable, soothing effect of it and harsh sun rays protection. The new flavor is mild yet attractive. Also, it is suitable for all ages, including kits thanks to its organic manufacturing.
Pros:
PETA certification for non-cruelty
Natural moisturizer and reviver
Large tube provides 3X more balm
Cons:

Blistex Medicated Lip Balm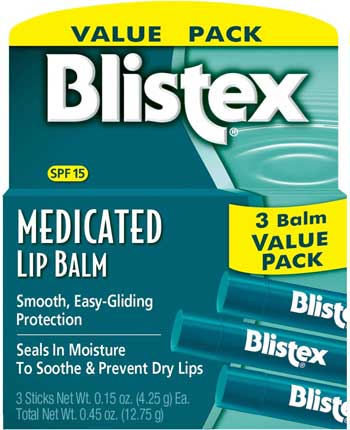 Cracked, chapped or dark lips, nothing is problematic to this medicated lip balm from Blistex. It takes care of all lips related problems and lets you smile with confidence.
This product is medicated from dimethicone and oxybenzone. These two works in combination as lip protectant and sunscreen. It also has natural beeswax. So, your lips will enjoy total protection from harsh sun rays, dehydration and cracks.
For best results application is recommended in every two hours. The package provides three chapsticks inside and is absolutely worthy of the money. It is also easy to apply with a comfortable gliding over the cracked lips.
It seals moisture inside. So, you feel confident during your special moments. And its classic smell will elevate the soothing effect.
Pros:
Value for money lip balm
Sun protection up to 15 SPF
Locks moisture to refresh lips
Cons:
No shades and additional flavor

Bella Vita Organic NicoLips Lip Balm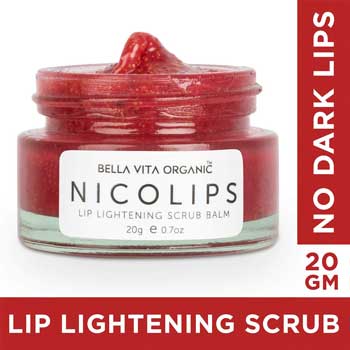 Are you tired of the lips darkening and nicotine marks on your lips? Get your hands on this specialized lip balm and remove the darkness shortly if need be. It will brighten your smile and beautify your face with a bright, pinkish and healthy lip.
It also restores your natural lips color and exfoliates the dead cells to revive your chapped lips. It also reduces sunburns and hydrates lips for a natural soothing feel. Also, its mild scrubbing feature will relieve you from cracks and chaps.
It exfoliates dead cells in around 2 to 3 minutes for impressive results. Hence, you will quickly get luscious and plumy lips rapidly; perfect for an untimely date. It is also made of all organic and natural ingredients.
Hence, the lip balm is safe for sensitive skins. It comes in an attractive glass container and suits both men and women.
Pros:
Unisex use possible
Aloe vera extract for natural manufacturing
Quick results in 2-3 minutes
Cons:

Maybelline New York Baby Lip Balm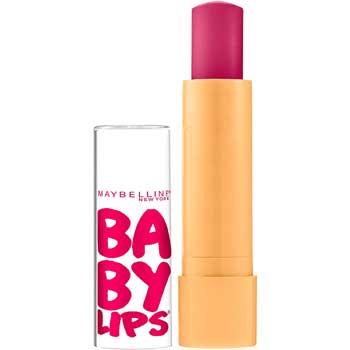 You can quickly complete your look with this Maybelline New York lip balm. It offers your kisser a soothing effect and naturally flattering red color to enhance your look and lips freshness. Also, it facilitates 20 SPF.
Hence, you get perfect safeguard against the harshest sun rays. The lip care product offers easy hydration with moisture lock technology and doesn't feel sticky either. Also, the moisture lasts for at least 8 hours, according to the manufacturer claim.
You will love its shiny and glossy look. Also, its color lasts exceptionally long until you eat or drink, even after a passionate kiss. Hence, carry this lip balm in your vanity bag and be ready for any situation anytime.
Pros:
Attractive packaging
20 SVF protection
Easy gliding on lips
Perfect shiny outlook
Cons:
The moisture doesn't last as long as the manufacturer claims

Things You Should Consider When Buying Lip Balms For Dark Lips
Although most people don't focus on different aspects of the lip balm and they would get just anything they get in the market, it is not right. When you get the lip care product, you should focus on the following things.
Ingredients:
Lip balms are made of natural and chemical ingredients both. When you get your hands on one item, get one with naturally nourishing and moisturizer elements. It should protect lips from dehydration in cold conditions and revive fresh look by removing chapped and cracked skins.
Beeswax makes a great natural moisture-locking material. Also, the ingredients must not feel irritating with the skin.
SPF range:
SPF refers to protection against sun rays. It is crucial for dark lips. Ideally, you should get one with at least 15SPF capacity to protect lips from the harsh sun rays.
Clear or tinted:
Lip balms come in transparent or shaded color. Honestly speaking, it rests over your preference. The tints provide a wash of color variations, whereas, clear creams offer a soft sheen. Also, tinted chapsticks will provide you with shade variations.
Flavor:
It also depends on your preference. Some familiar lip balm flavors are litchi, watermelon, lemon, cola, coconut, cocoa, chocolate, banana, plum, etc. Which one is your preference?
Wrapping Up for Lip Balm Buyers

Our recommendation for the best lip balms for dark lips will revive the refreshing and natural color of your lips and remove the dark patches. Also, these products will promote the lips' healthiness for sure. Hence, you will love a younger looking, attractive and soft pair of lips to enhance your smile.
So, the decision of choosing one lip balm rests upon your preference. All you have to make sure that it appealed to you. Rejoice!
Buy on Walmart
8-Pack Lip Balm Gift Set by Naturistick. Assorted Flavors. 100% Natural Ingredients. Best - Walmart Link
artnaturals Natural Organic Lip Balm Beeswax - (6 x .15 Oz / 4.25g) - Gift Set of - Walmart Link
Organic Tinted Lip Balm by Sky Organics – 4 Pack Assorted Colors – Coconut Oil, Cocoa - Walmart Link
Burt's Bees Lip Balm Stocking Stuffer, Moisturizing Lip Care Holiday Gift, 100% Natural, - Walmart Link
Burt's Bees Lip Balm Stocking Stuffer, Tinted Moisturizing Lip Care Holiday Gift for - Walmart Link
Dr. Dan's Cortibalm - 1 Pack - for Dry Cracked Lips - Healing Lip Balm for Severely - Walmart Link
Project MC2 Create Your Own Lip Balm Lab, At-Home STEM Kits For Kids Age 6 And Up, Makeup - Walmart Link
Neutrogena Revitalizing and Moisturizing Tinted Lip Balm with Sun Protective Broad - Walmart Link
Supergoop! Fusion Lip Balm Mint SPF 30, 0.5 Fl Oz - Walmart Link
Jack Black, Intense Therapy Lip Balm SPF 25, Green Tea Antioxidants, Long Lasting - Walmart Link
Lip Smacker Lippy Pal Lip Balm, Kitten, Water-Meow-Lon, 0.14 Ounce (80844) - Walmart Link
Blistex Medicated Lip Balm, 0.15 Ounce (Pack of 3) - Walmart Link
Cliganic USDA Organic Lip Balm Stocking Stuffer, Holiday Gift Set - 6 Flavors - 100% - Walmart Link
Aquaphor Lip Repair Stick - Soothes Dry Chapped Lips - Two(2) .17 Oz Sticks - Walmart Link
O'Keeffe's Lip Repair Night Treatment Lip Balm .25 Ounce Jar, K3015207 - Walmart Link
NIVEA Smoothness Lip Care SPF 15, Lip Balm SPF Stick, 0.17 Oz, Pack of 4 - Walmart Link
Lip Balm Stocking Stuffer, Burt's Bees Tinted Moisturizing Lip Care Holiday Gift for - Walmart Link
Jack Black, Intense Therapy Lip Balm SPF 25, 0.25ounce - Walmart Link
Dr. Dan's Cortibalm -3 Pack -for Dry Cracked Lips - Healing Lip Balm for Severely Chapped - Walmart Link
Buy on eBay
8-Pack Lip Balm Gift Set by Naturistick. Assorted Flavors. 100% Natural Ingredients. Best - eBay Link
artnaturals Natural Organic Lip Balm Beeswax - (6 x .15 Oz / 4.25g) - Gift Set of - eBay Link
Organic Tinted Lip Balm by Sky Organics – 4 Pack Assorted Colors – Coconut Oil, Cocoa - eBay Link
Burt's Bees Lip Balm Stocking Stuffer, Moisturizing Lip Care Holiday Gift, 100% Natural, - eBay Link
Burt's Bees Lip Balm Stocking Stuffer, Tinted Moisturizing Lip Care Holiday Gift for - eBay Link
Dr. Dan's Cortibalm - 1 Pack - for Dry Cracked Lips - Healing Lip Balm for Severely - eBay Link
Project MC2 Create Your Own Lip Balm Lab, At-Home STEM Kits For Kids Age 6 And Up, Makeup - eBay Link
Neutrogena Revitalizing and Moisturizing Tinted Lip Balm with Sun Protective Broad - eBay Link
Supergoop! Fusion Lip Balm Mint SPF 30, 0.5 Fl Oz - eBay Link
Jack Black, Intense Therapy Lip Balm SPF 25, Green Tea Antioxidants, Long Lasting - eBay Link
Lip Smacker Lippy Pal Lip Balm, Kitten, Water-Meow-Lon, 0.14 Ounce (80844) - eBay Link
Blistex Medicated Lip Balm, 0.15 Ounce (Pack of 3) - eBay Link
Cliganic USDA Organic Lip Balm Stocking Stuffer, Holiday Gift Set - 6 Flavors - 100% - eBay Link
Aquaphor Lip Repair Stick - Soothes Dry Chapped Lips - Two(2) .17 Oz Sticks - eBay Link
O'Keeffe's Lip Repair Night Treatment Lip Balm .25 Ounce Jar, K3015207 - eBay Link
NIVEA Smoothness Lip Care SPF 15, Lip Balm SPF Stick, 0.17 Oz, Pack of 4 - eBay Link
Lip Balm Stocking Stuffer, Burt's Bees Tinted Moisturizing Lip Care Holiday Gift for - eBay Link
Jack Black, Intense Therapy Lip Balm SPF 25, 0.25ounce - eBay Link
Dr. Dan's Cortibalm -3 Pack -for Dry Cracked Lips - Healing Lip Balm for Severely Chapped - eBay Link