Selecting a regular bra to wear each day is hard enough since how comfortable it feels can decide how well you enjoy your day. Strapless bras are even more difficult to figure out since they do not have straps to provide the right support. And, most women will agree that having to readjust or tug at their bra while on an outing can be very annoying. This is without worrying about a wardrobe malfunction which is very common when strapless bras fail to do their job correctly.
There are many reasons why you need to find the perfect strapless bra for you. For one, you don't want to go through the stress of tugging at the bra every time you wear one. You also don't want your bra too tight which can quickly get uncomfortable.
While you can go through extensive trial and error to get the right strapless for you, we have prepared a list of the top 8 best strapless bras for every type of outfit. Each of the bras reviewed on this guide is available in different sizes and they offer near similar solutions for your strapless bra problems.
Editors' Picks for Top Strapless Bras 2022
Top 10 Best Strapless Bras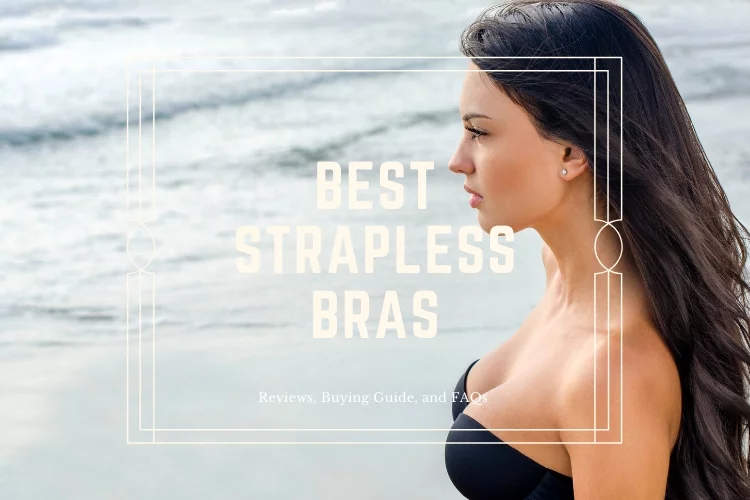 1. Calvin Klein Women's Naked Glamour Strapless Push Up Bra - Link
Best features
No-slip grip and boning on the interior sides
Imported Luxurious fabric
Contour underwire cups
Removable straps
Hook and eye closure
Topping the list we have Calvin Klein's Women's Naked Glamour Strapless Push Up Bra. The brand needs no introduction. The brand specializes in women's and men's apparel, sophisticated handbags and footwear, modern underwear and fragrances, and even home furnishings.
There is no denying that this bra is well-reviewed, one of Calvin Klein's best-selling strapless bras, and is undoubtedly favored by many. Made from 67% Nylon and 33% Spandex, this imported Calvin Klein Strapless bra is hand wash only.
One of the features that catch the eye is the no slip grip it comes with on its interior sides. This ensures the bra provides support while staying snug without any reason to slip. It features contour underwire cups that come with a slight push up to provide lift. The cups also separate making the bra one of the best for functional and comfortable wear.
There is also boning on both cups of the bra which ensures you don't have to rush to the restroom ever so often to adjust it.
The fabric used in making the bra is luxurious and features a small logo plaque at the center where the cups separate.
It also comes with adjustable and removable straps for when you need a regular bra!

2. Niidor Adhesive Bra Strapless Sticky Invisible Push Up Silicone Bra - Link
Best Features
Easy to clean
Lightweight and 100% comfortable
Suitable for backless deep V-shaped dresses and tops
Features 100% Silicone material for optimal grip
Pull-On Closure
The Niidor Adhesive Strapless Bra is available in 6 color styles. It is one of the best strapless bras on the market for backless dresses. It is made from 80% Nylon and 20% Spandex and features a Pull-On Closure.
It features 100% Silicone material which makes it sticky and comfortable so you don't have to worry about it falling off. The bra is easy to wear and even more easy to pull off. The stickiness of the material does not cause any pain to your skin!
The bra features a deep V-shaped design that pushes your chest thus giving you a more sexy and full cleavage. If you are looking for a strapless bra that will help show off your beautiful chest curve, you can't go wrong with the Niidor Adhesive Strapless bra.
The bra is lightweight and does not sag. The closure button is not metallic and there is no sponge in the bra that might cause discomfort. The cups are made in line with European and American cups so it covers the chest comprehensively without any squeezing.
It is reusable and easy to clean.
NOTE: To ensure the adhesive surface does not lose its adhesive gel for the next time you use it, only wet with warm water that already contains any mild detergent. And without squeezing, let it air dry.

3. MITALOO Push Up Strapless Self Adhesive Plunge Bra - Link
Best Features
Suitable for all types of outfits including wedding gowns, low-cut tops, etc.
Cups come with Push up design
Made from soft material
Hand wash only
Pull-on closure
Provides fuller cleavage
Cheap and available in three different color styles, the Mitaloo Push Up Strapless Self Adhesive Plunge Bra helps you create fuller support without any of the weird gapping that is sometimes present in backless strapless bras.
The bra is made using soft natural material. The bra features biological glue on the interior of the cup which ensures it sticks properly without slipping. The cups feature a push-up design which creates the appearance of more cleavage!
The Mitaloo push up strapless self adhesive bra is suitable for different wears such as wedding gowns, backless gowns, deep V shaped low cut outfits, formal dresses, etc.
The bra is washable and reusable. The brand recommends washing with running water only and without detergent immediately after each use.
NOTE: The bra is not suitable for use at high temperatures or while doing exercises. Sweat disrupts the normal stickiness of the silicone material used in making the bra which then causes it to slip off.

4. Wacoal Women's Red Carpet Strapless Full Busted Underwire Bra - Link
Best Features
Made from 91% Nylon and 9% Spandex
Comes with Hook and eye for closure
Silicone strips and underwire cups for a snug fit
Comes with smooth sidebands that reduce the bulge
Full busted molded cups for a fuller bust
Another impressive convertible strapless bra that delivers comfort and support is the Wacoal Women's Red Carpet Strapless Full Busted Underwire Bra.
This bra features molded cups that come with an underwire. It features light foam padding and is made from entirely smooth fabric which ensures your natural shape is well pronounced.
There are silicone strips along the edges of the bra which keeps the bra in place at all times. It features a hook and eye closure as well as an anchor which stabilizes the bra.
One of the things we love about this bra is that you can easily convert it to a traditional, crisscross, and one-shoulder style. The cups feature foam padding which gives you a fuller bust.

5. Vanity Fair Women's Beauty Back Smoothing Strapless Bra (34B - Link
Best Features
Available in different colors and size
Lightly lined Cups ensure complete coverage
Hook and eye closure
Smooth on the skin
Adjustable removable straps
This strapless bra by Vanity Fairs is available in three main color styles - Black, Rose beige, and star white. Made from a combination of 80% Nylon and 20% Spandex, it is hand wash only. It comes with a hook and eye closure and is soft on the skin.
The bra features a 4-way stretch fabric that does not cause any pain to your skin. The cups are lightly lined and provide support and separation while maintaining a smooth appearance under your clothes.
The bra features no-slip silicone strips on the underwire cups which holds the bra in place. It also comes with removable, adjustable straps which let you convert and style your bra in 5 different ways.
The bra ensures complete coverage and is available in different sizes from 34B to 44DD. Each size fits perfectly and does not look saggy.

6. DELIMIRA Women's Underwire Contour Multiway Full Coverage Strapless Bra (Plus Size) - Link
Best Features
Silicone bands keep the bra in place
Breathable mesh wings prevent buckling
Slightly padded cups for fuller and natural cleavage
Available in sizes 32B to 46DD
The DELIMIRA Women's Underwire Contour Multiway Full Coverage Strapless Br is another well-reviewed bra for comfortable support and reliability.
Unlike most strapless bra that is made from nylon and spandex, this one is made from 93% Polyamide and 7% Spandex. It features underwire contour cups which come with silicone strips on the band to keep it in place. The cups are slightly padded for extra support, which gives a fuller shape.
The bra comes with detachable straps so you can style the bra depending on the outfit you want to wear.
There is also a side panel with breathable mesh wings which prevents the bra from buckling.

7. Freya Women's Plus Size Idol Allure Strapless Bra - Link
Best Features
Hand washable
Boost your bust shape
Delicate fishnet overlay ensures a smooth look under your clothing
Detachable straps
Elastic gripper for anchorage
The Freya Women's Plus Suze Idol Allure Strapless bra is available in only two colors. The material composition is 74% Nylon and 26% Elastane. It features a hook and eye closure and is hand-washed only.
The bra offers a comfortable solution to a fuller bust thanks to its push-up flawless shape. It comes with a fishnet mesh overlay that is smooth and delicately trimmed to lay flat.
One of the selling points of this bra is that it comes with detachable straps that allow you to convert the bra depending on your outfit style.
There is also an elastic band at the top back which improves the support and anchorage of the bra.

8. Wacoal Women's Staying Power Strapless Bra - Link

Best Features
Silicone strips prevent the bra from slipping
Fully adjustable removable straps
Hook and eye closure
Soft foam cups for comfort
This imported Wacoal strapless bra offers wire-free soft foam cups specifically designed for your comfort. The fabric material of the bra is composed of 65% Nylon and 35% Spandex which offers a smooth look under your clothing. The bra comes with hidden boning inserts on the side seams which improves its shape and enhances the support provided. There are silicone strips along the neckline and back of the bra which keeps the bra from slipping. It also comes with removable, adjustable straps for added versatility
Strapless Bra Buying Guide: How to find a strapless bra that works
A strapless bra does have a lot of intricate factors to consider. For one, most women look great when they do wear strapless bras. This is mostly due to a number of reasons such as wearing the right fit for them.
The majority of women wear the wrong bra size but they do not even know this. The best way to know your actual bra size is to get fitted by a professional bra fitter. This will also let you know the right band size for you which is important when it comes to strapless bras!
Strapless bras have different bands and it decides how well the bra fits. Without the straps, all the support for the bra comes from the band. One common misconception about bras is that when a bra works well with straps on, it would also work well strapless. This is not often the case as not all convertible bras can bear the load properly without the straps on.
That said, here are some important things to look for when buying a strapless bra:
No-Slip Grip
There is no denying this is the most important feature on any strapless bra. This is a property of the material that ensures the bra does not slip off. With this, the bra stays in place without you having to constantly adjust it which can be a lot of work, thus making you very uncomfortable.
In this case, it is best to opt for a strapless bra that comes with silicone elastic. The silicone material of the elastic at the cup edge of your bra prevents it from slipping.
NOTE: Usually, most brands include the type of material used in making the bra in its product description.
Removable strap option
Another important thing you need to consider before buying a strapless bra is how you intend to use it. Most women wear strapless bras only on special occasions when wearing a normal bra would be inconvenient and impossible. But this should not always be the case.
Some strapless bras come with detachable straps so that they can offer much more versatility to your wardrobe. That way, you get to wear your strapless bras more often.
In other words, when in the market for a strapless bra, it could be very beneficial to get one that comes with removable straps. Some even come with more than a pair of straps! You might want to keep an eye out for bras like that.
Cup Size
When buying a bra, strapped or otherwise, the cup size is important because it determines how comfortable you will be when you wear it.
Considering your strapless bra has to stay in place and keep you comfortable, you must wear the right cup size. All strapless bras come with specific information on the cup size to help you make a better decision.
Hooks
Another element that influences how stable and comfortable a strapless bra feels when worn is the hooks at the back.
The basic principle is that larger breasts require more support from the bra especially since there would be no straps to improve the stability. A good strapless bra should have a wideband size and also more hooks so it can provide a snug fit.
Material
The type of material or fabric used in making the bra should be soft and comfortable on the skin since there will be lots of friction. Most strapless bras also come with laces which improves their aesthetical appeal. Fortunately, most top brands use similar material/fabric in making their strapless.
Boning
Boning is essentially the inserts on a bra that helps keep its structure in place. They are necessary for support alongside the straps and hooks. However, they can quickly get uncomfortable even when there are straps to support them in conventional bras. The same is even more true for strapless bras.
While choosing one, you should get one that has the inserts encased in soft quality paddings.
Strapless Bra FAQs
Here are some commonly asked questions about strapless bras:
Does Household Products Like Deodorant, Baby Powder, etc. really keep Strapless Bras in Place?
No, they do not work. The reason is that friction is very important to have at any area the strapless bra comes in contact with your skin. The friction keeps the bra in place so you don't have to rush into the restroom every couple of hours to adjust the bra.
Household items such as oil, baby powder, deodorant cause the bra to slip since they remove the natural friction that would otherwise be present.
Sweat can also significantly cause your strapless bra to go south especially when the band size you wear isn't exactly your size.
Which Is Better: Molded Cups or Bandeau-type cups?
There is no specific way to answer. The right answer is mostly down to personal preference; in other words, it depends entirely on what you believe makes you look good the best. It also depends on the type of look you are after when you use the strapless bra.
For instance, bandeaus offer great coverage options but do not provide a lot of support. Bandeau-type cups essentially offer you natural looks so there isn't much separation in terms of the shape. Molded cups on the other hand give you support and there is distinct separation in the shape. They also give you a lift.
That said, bras with molded cups are not designed to show or be visible when you wear them. This is not true for lace bandeaus since they can look amazing when peeking out of a low-cut neckline of a dress or top.
Do Backless, Strapless Bras Work?
They do work but they are usually only worn for special occasions. They are usually only for occasions where you do not want your bra to be seen but still need the coverage and support a bra provides; for instance, when wearing a backless dress.
Although there are different types of backless, strapless bras, the best types are the ones that come with adhesive wings. Those feature sideband that offers a bit of security.
That said, backless, strapless bras do not work well for people with large busts unless, of course, you are quite perky.
Also, avoid the use of lotion, oil, deodorant, or powder in any area that the bra's adhesive wings touch your skin. Such products will simply cause the bra to slip, and you don't want that!
When washing this type of bra, ensure you follow the washing instructions to protect the adhesive wings. That way, you can enjoy it got a long time.
Is There Any Difference Between a Strapless Bra and A Regular Bra?
Yes, asides from the fact that regular bras have straps there are also some differences. The biggest of them is that strapless bras have different types of bands compared to a regular bra. This is necessary because the bra has to stay lifted without the support straps typically provided. That said, the use of a strapless or regular bra depends on personal preference! Most women prefer the comfort and support wearing strapless bras offer that it is the only type of bra they wear.
Conclusion for Strapless Bra Buyers
There you have it. Strapless bras offer amazing options in terms of what you can wear. However, since they do not come with straps, it is important to get the right size for you so you don't spend half of the time trying to adjust or keep the bra in place. For this reason, you must consider some factors that might influence how much support the strapless bra offers and how snug it fits.
Since there are lots of strapless styles on the market, we have prepared a list of the most comfortable and supportive strapless bras on the market so you can have a wide range of good options to choose from.
We also included a FAQ section to give you some tips to keep in mind so you can buy a strapless bra that holds up well.